The Best of the Best for You!
Real Estate and Commercial Real Estate Signs
YOUR ONE-STOP-SHOP FOR REAL ESTATE SIGNS
Rush Hour Printing and Graphics is the approved supplier of real estate signs for brokerages across the country. As pioneers in the industry of real estate signs in the USA, you can trust our staff to provide you with everything you need to close the deal.
Rush Hour Printing and Graphics is your one-stop shop for all your real estate signage needs. Whether you're looking for open house signs, "for sale" signs, frames, posts, or vehicle graphics, our talented design team will be happy to help you bring your vision to life. Supported by the latest technologies and digital printers, and offering a wide variety of high-quality sign materials, we can work together to create signage that promotes your brand, vision, and business goals.
AT RUSH HOUR PRINTING AND GRAPHICS, THERE ARE NO SURPRISES. ORDERING REAL ESTATE SIGNS COULD NOT BE SIMPLER; IN FACT, IT'S AS EASY AS 1-2-3!
Within 24-48 hours of the order being placed, you receive a scaled, full-color proof.
You provide us with authorization to proceed via return e-mail.
The job goes to production!
As an added bonus, we provide fast, nationwide shipping through our partnership with FedEx, which means your open house signs will arrive without delay, and your for sale sign will never take longer than necessary to arrive!
As a full-service sign company, we do more than simply design and deliver. We also specialize in the installation and removal of for sale sign posts and accessories on residential and commercial properties throughout DC, MA, AND VA. With all of your signage needs taken care of, you'll be free to focus on what really matters: your clients, your business, and your bottom line.
You can't hold an open house without open house signs, and you can't make a sale without a for sale sign! Call us today to find out why real estate agents and brokers alike have chosen Rush Hour Printing and Graphics as their trusted supplier of real estate signs for more than 30 years.
ELECTIONS SIGNS
GAIN VOTER ATTENTION WITH HIGH-QUALITY ELECTION SIGNS!
Are you running for election? Whether this is your first campaign, or you are running for re-election, Rush Hour Printing and Graphics can help! Election signs are designed to be noticed and are one of the most successful marketing tools used to build name recognition for any candidate.
It's not uncommon for voters to make their final decision at the polls. They review the list of candidate's names on the ballot, and if they have been undecided until this point, many will choose the candidate that they recognize the most. Voters today want to put a face to each candidate's name, meaning that strategically placed full-color signs at key locations throughout your city have the potential to give you an edge over other candidates. The more signs you have up, the greater the chance of name recognition.
CUSTOM ELECTION SIGNS
From single color election signs and silkscreen signs to full-color billboards, Rush Hour Printing and Graphics can handle all of your election printing needs. With our state-of-the-art flatbed printers, we can print full-color election signs quickly and affordably. We have no required minimums, which means that we can print anywhere from one to several thousand signs. Imagine the added exposure that will result from full color 4' x 8' election signs!
Don't be afraid to think outside of the box! Will you be driving around town in your car throughout the campaign? If so, consider using your vehicle to help promote your candidacy. Our magnetic election signs or temporary vehicle graphics for cars and trucks are perfect for your political campaign. Magnetic vehicle signs can be printed in full color and are very easy to apply and remove. A great temporary advertising vehicle!
Use lightweight, hand-held rally signs to clearly convey your message to a crowd. What about a large banner for your campaign office, along with large banner stands for your town hall meetings? Whatever your signage needs, Rush Hour Printing and Graphics can help.
Allow us to help make your campaign a resounding success. From convention to Election Day, Rush Hour Printing and Graphics is with you all the way!
GOLF TOURNAMENT SIGNS
YOUR GOLF TOURNAMENT SIGN SPECIALISTS!
FUNDRAISERS! – CHARITY TOURNAMENTS! – CORPORATE TOURNAMENTS!
We have one of the largest selections of golf tournament signs available. You can choose from a basic one color sign to a full-color deluxe sign that can help elevate the image of your tournament.
Your sponsors will also love the added exposure they get from our high-quality images.
Choose any of our standard 16″h x 24″w signs with h-frames. Custom sizes and quantities are also available.
For immediate assistance and to obtain Golf Sign information please contact us at artwork@rushhourprinting.com
Call today and find out how our signs can help promote your tournament!
SIGN WITH H-FRAME SYSTEM
Metal H-Frame arms slide into the bottom of the sign. Push the frame into the ground and step on the bottom of the frame and it easily slides into the ground.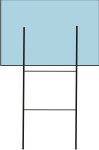 TEE ORDER POG (4″X4″)
Use our 4″x4″ Tee Order Pog to determine your tee-off order! Simply toss it in the air between players, let it land and tee-off according to the number pointing to you.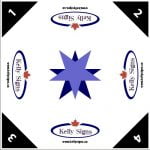 Products may not appear as shown
OUR SIGNS
QUALITY BUSINESS SIGNS AT RUSH HOUR PRINTING AND GRAPHICS
Whether you are a burgeoning business or a company that's been in the game for decades, your physical location is an important factor in determining your success. Part of that is having eye-catching and effective signage, whether you want it to be seen from near or far, up high or closer to the ground. With our signs, you can let people know where you are, show off your personality and brand, and significantly enhance your curb appeal.
For more than 10 years, Rush Hour Printing and Graphics has been creating quality business signs across the US and Canada. We offer an eclectic variety of different temporary and permanent signage to address the needs of all types of companies and organizations. From sidewalk signs to monument signs, facia signs and pylon signs, we have something for everybody. Some of the clients that rely on the consistent quality that we deliver include successful Fortune 500 companies.
CUSTOM BUSINESS SIGNS
As a highly experienced, fully-qualified, full-service sign company that prides itself on exceptional personalized customer service, we are your one-stop shop when it comes to business signs. By using state-of-the-art technology and proven techniques, we specialize in designing, manufacturing, printing and installing signs so you get everything you need when you come to us. This will save you a lot of time by eliminating the need to go to different places for each step in the process. To make sure you get the results that you want, our dedicated team will work with you through the entire process, from the beginning to the end, to understand what you need. This includes discussion of your branding (colors, logo, etc.), what information to include, where on the sign it will be, design elements, optimal placement of the sign, and the ultimate goal (or goals) of the sign.
We have helped countless companies—big, small and everywhere in between—create brand awareness and motivate their customers to make a purchase.
OTHER SIGNS WE MAKE
To learn more about the many business signs that we offer, explore the options we have available below:
Dimensional Letters
Fascia & Signs Boxes
LED Signs
Chanel Letters
Pylon Signs
Monument Signs
Point-of-Purchase
Sidewalk Signs
TRANSFORM YOUR VEHICLE WITH WRAPS AND GRAPHICS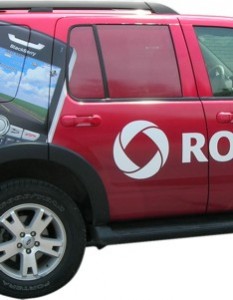 Don't just drive your vehicle, advertise with it! Vehicle wraps and graphics from Rush Hour Printing and Graphics transform your vehicle into a mobile billboard!
Is your vehicle on the road all day? Why not put it to good use and promote your company day and night? Vehicle wraps and vehicle graphics serve not only to distinguish your company's vehicle wherever you go, but to advertise your business and build brand recognition. Vehicle lettering and vehicle graphics can attract thousands of impressions per month, making them a cost effective, yet powerful advertising solution for any business.
Regardless of your vehicle's make, model, or size, Rush Hour Printing and Graphics will design and produce an eye-catching, high-quality and effective vehicle wrap or vehicle graphic that matches your business vision. Companies both large and small are choosing to advertise on their vehicles, whether it's with basic vinyl letters, a half wrap or a full wrap. Whatever you choose, your vehicle will get noticed and help increase your sales wherever you go. Whether you're stuck in traffic, heading to a client meeting, or parked at your office, with vehicle wraps and graphics, your advertising dollars never stop working for you.
CUSTOM VEHICLE WRAPS & GRAPHICS
Rush Hour Printing and Graphics experienced design staff will work with you to develop an image that is sure to turn heads and attract your target audience. Whether you know exactly what you're looking for, or you need a creative consultation, let our expert designers lead the way. Before printing the final product, they will supply you with a scale drawing of the vehicle wrap or graphics, so that you can effectively visualize the way your vehicle will look and make any required changes.
Vehicle wraps will last years with proper maintenance and care, but can always be safely removed with no damage to your vehicle. If you're considering advertising your business on your vehicle, then contact the experts at Rush Hour Printing and Graphics.